Travel Resources
Below you can find some of my favorite travel-related resources.
Where to Look for deals
I always suggest searching for flights and hotels in an incognito browser window. (If you're using Chrome as your browser, simply go to File > New Incognito Window.) This ensures that the site isn't saving any information (cookies) about your searches, and therefore means that you'll actually see the best deals!
Booking flights
Booking flights can be a huge pain in the you know what!  I HATE agonizing over flight prices and connections and the tiny, tiny seats — but these sites should help you find the best deals:
Skyscanner
Skyscanner.com— I often turn to Skyscanner when I'm looking for flight options. It searches a TON of airlines — and I've found some great deals using it (especially when looking for flights within Europe). I also really like the "Everywhere" search. Using this, you can choose your departure city, but then just choose "Everywhere" as your destination. The site then shows you where in the world you can fly for the least amount of money.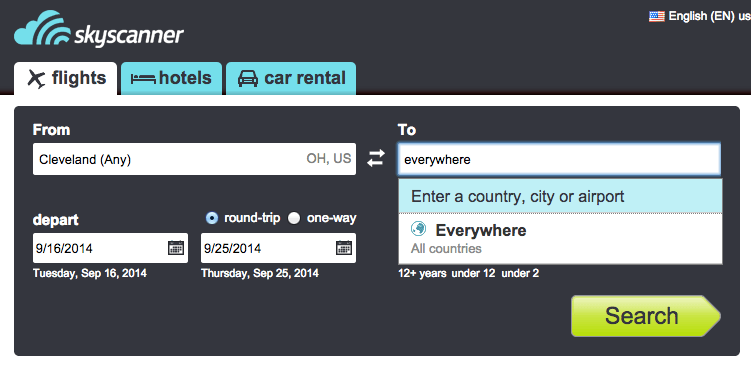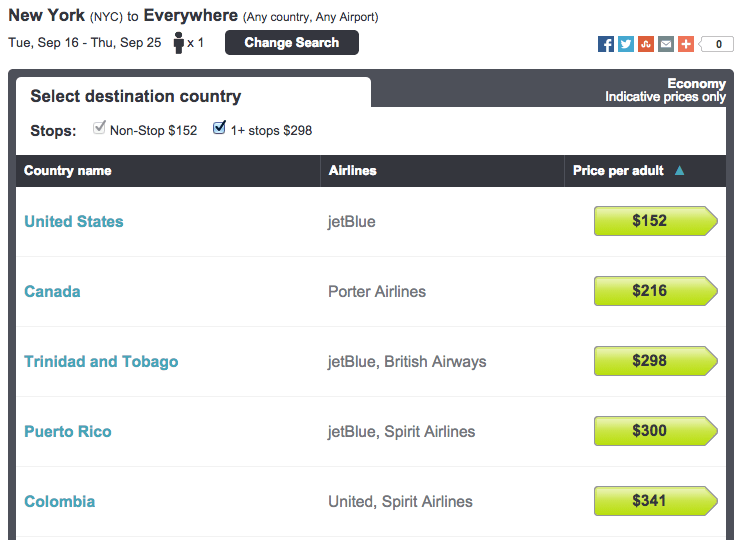 Kayak
Kayak.com— Kayak is another of my go-to sites when I'm looking for flight deals. It's very easy to use, and you can set price alerts if you're keeping your eye on a specific fare. On certain routes, Kayak also will show you the price trend on that route, and will tell you whether you should buy now or wait.
Similar to Skyscanner's "Everywhere" search, Kayak has an "Explore" option hidden under the "More" tab on its site. Here, you choose your departure city and the month you'd like to travel, and Kayak shows you flight prices for destinations all over the world.  This is an awesome site to use.
Momondo
Momondo.com— This is another great site.  Their flight search is great because you get results sorted either by ticket or by timetable, and they also show you which flights are cheapest and which are quickest. Plus, Southwest flights actually show up on Momondo!
Momondo also has a fun search function called Trip Finder. Using this, you can define the type of trip you're looking for, your ideal weather, your budget, and even what mood you'd like to experience. Then the site gives you some suggestions —  (Just don't forget to select your departure city in the bottom left.)
Cheap Flights
Cheapflights.com— This one is more for my friends (or anyone traveling) Down Under. It's worth noting that, as you travel, it's sometimes smart to use the local versions of search sites. Cheapflights, for example, has different sites for most of its major markets. They recently updated their Australia site, which is why I'm mentioning that one here. (If you don't live in Australia, feel free to check out any of the other Cheapflights sites, though — they all search for good regional deals!)
The first thing I like about Cheapflights is the clean, easy-to-use search function. There's no extra clutter here. And, as you scroll down the page (or perform a search), this remains true. Thanks, Cheapflights, for not overcomplicating things.
I also like their "Destinations" tab. You can click on any region in the world, and Cheapflights will show you a list of the top cities to fly to in that part of the world, as well as show you where the best deals are. This would be fun to play around with if you weren't set on a destination.
NOTE: While I usually search for flights on one or two of these sites in the planning stage of my trips, I try to book flights directly with the airline whenever possible. If something goes wrong with a flight or connection, the last thing you want is for the airline to claim no responsibility because you booked through a third-party site. (I know people who have run into this issue when booking with sites like Expedia and Priceline — it doesn't happen often, but it CAN happen, especially if a site places you on multiple airlines in order to get the lowest price.)
Booking Boutique hotels
Tablet Hotels
https://www.tablethotels.com/ Tablet is everything you need for unforgettable travel experiences: all the hotels that matter, effortless online booking at the lowest available prices, and live, dependable customer service — you bring a hunger for experience and a taste for the unusual, and they will take care of the rest. Tablet also have 72 hour deals which are discounted on top of the already low prices.

Jetsetter
Jetsetter.com by far is my favorite site for booking boutique hotels.  Jetsetter provides insider deals, unique experiences, and thoughtful insights to their members, allowing them to book with ease and confidence wherever and whenever they choose.  Jetsetter is free to join!!
Jetsetter has their hotels and travel experiences into three unique Jetsetter collections:
Royal: Absolute luxury with a high bar for impeccable service, fine style, and A-list amenities. Expect exceptionally, one-of-a-kind experiences and be prepared to be pampered.
Posh: Impressive properties with distinctive personality and style, attentive service, a sense of place, and a recognizable quality above standard—an experience sure to be memorable.
Brilliant: Smart, accessible properties in desirable locations with distinctive qualities that represent great value. Don't expect everything, but there's enough to make your stay uniquely enjoyable.
Limited-Time Sales
Jetsetter believes that seeing the world in style shouldn't have to cost the earth, so they always offer a selection of hotels and tours at up to 40% off the usual price (that's connections for you). These deals are offered for a limited time of between five and 10 days only.
Mr. & Mrs. Smith
 https://smithhotels.com/budget-boutique-hotels I like Mr & Mrs. Smith also but their prices tend to be a little more expensive than Jetsetter but I still check and compare prices.  They have hand-picked collection of the most special boutique hotels in the world.  They also personally visit and anonymously review every single one, so you can rest assured you're in safe hands.  So whether you're looking for city chic, coastal cool or a contemporary country retreat, this is the collection to visit when planning and booking your luxury boutique hotel.  Join now (it's free) and get gifts on arrival and exclusive offers every time you book with them.
.
TripAdvisor.com— You should always take TripAdvisor reviews with a grain of salt. BUT, I still tend to go check this site once I've already decided on one or two hotels I'm interested in. As long as the TA reviews aren't horrible, then I usually feel confident with my choice(s).
Getting travel deals
Everyone wants to save some money on travel, right? Here are a few newsletters I subscribe to for great deals:
TravelZoo — This deal site is always full of goodies, from flight deals to cheap vacation packages. I'm signed up for the Top 20 newsletter, which collects and sends out the best travel deals once a week.
Living Social Escapes— Living Social is good to follow for all kinds of deals, but I especially like checking out their "Escapes" section every once in a while. I'm told Groupon often has similar deals.
Get airfare alerts—  You can also get some great fare alerts from Airfare Watchdog, or search for current flight deals at The Flight Deal.